This the season to dive into the world of #PROM2024! As the new year unfolds, so do the latest trends in prom dresses. Leave behind the neutrals and traditional metallic hues of the holidays – it's time to embrace the light and bright tones of Spring. Whether your prom look is already set or you're still deciding, one thing is certain: these five trends are set to take center stage. Scroll down to ignite serious inspiration for Prom 2024.
1. The Blooming Artistry: In the world of prom fashion, the 3D Floral Series is a true masterpiece. Each gown is adorned with intricately crafted three-dimensional flowers, creating a sense of blooming artistry. These delicate floral details add a touch of romance and sophistication, making you feel like you're stepping into a garden of dreams.
The essence of our 3D Flower Series lies in its tribute to the blooming beauty of nature. Each intricate flower crafted on these dresses is a testament to the delicate craftsmanship and an ode to the vivacious colors of life. This series embodies a garden of dreams, where each petal tells a unique story.
2. Texture That Speaks Volumes: One of the remarkable features of the 3D Floral Series is the tactile richness it brings to your ensemble. The textured flowers not only captivate the eyes but also invite touch, creating a multi-sensory experience. The interplay of light and shadow on these textured blossoms adds depth to your dress, ensuring you shine from every angle.
Our designers draw inspiration from the ever-changing seasons, capturing the vibrant exuberance of spring to the serene elegance of winter. Each flower is meticulously handcrafted, bringing to life the essence of natural beauty. The dresses are not just adorned with blooms; they are a celebration of life and aesthetics.
3. Unleash Your Individuality: No two flowers are identical, and the same holds true for the 3D Floral Series. This trend allows you to embrace your individuality and stand out in a crowd. Whether you choose a gown with cascading blooms, scattered petals, or a bold floral pattern, each dress tells a unique story, just like you.
The versatility of the 3D Flower Series makes it perfect for a myriad of occasions. From enchanting prom nights to sophisticated soirées, these dresses add a touch of floral charm to any event. Whether you're dancing under the stars or attending a glamorous gala, the 3D Flower Series promises to make you the epitome of elegance.
Step into the enchanting world of our 3D Flower Series Prom Dresses, where every petal tells a story, and every dress is a canvas of nature's artistry.
4. Versatility Meets Modern Chic: The beauty of the 3D Floral Series lies in its versatility. From sleek silhouettes to voluminous skirts, these floral embellishments effortlessly adapt to various dress styles. Whether you prefer a classic A-line or a trendy mermaid cut, the floral details seamlessly merge with modern chic, making it suitable for any prom theme.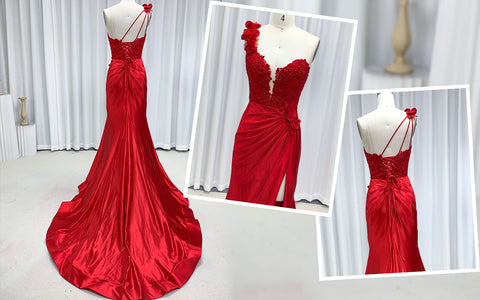 5. Timeless Appeal: While trends come and go, the timeless appeal of florals endures. The 3D Floral Series ensures your prom dress not only reflects the current trend but also stands the test of time. Capture the essence of everlasting beauty with a gown that combines contemporary flair with timeless charm.
Immerse yourself in the vivid tapestry of nature with our 2024 Floral Whimsy dresses. Inspired by the enchanting beauty of blooming flowers, our designers have translated the delicate intricacies of petals into stunning 3D appliques. This collection is a celebration of natural grace, reimagined for the contemporary fashionista.
As you embark on your prom dress journey for 2024, the 3D Floral Series beckons you to embrace the beauty of nature in fashion. Let your dress bloom with sophistication, individuality, and timeless appeal. Step into the future of prom fashion – where every petal tells a story, and every gown is a work of art. Which 2024 prom dress trend will you wear? The answer is clear – let the floral magic unfold!
Contact Address: Room 522, HaoQuan Building, No. 1, DongMen Street, JingTai Airport, Baiyun District, Guangzhou, China
WhatsApp: (86)138-2614-1817
Instagram:mylovelene_wholesaler
Email: ilovelenega@gmail.com